Civilian Supply Freighter
Classification: Medium Civilian

Value: 40 million credits

Crew: 6
Engines:
4 thrust/hex normal space
2 thrust/hex hyperspace
4 thrust/60 degree pivot
Jump gate required
4 thrust available
| | | |
| --- | --- | --- |
| Weapons: | Top: | 1 Standard Particle beam; covers: f, fr, fl, ar, al, a |
Cargo: 120 Mc
Civilian Luxury Liner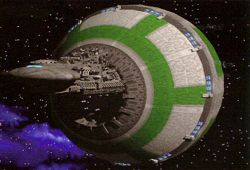 Classification: Large Civilian

Value: 100 million credits

Engines:
4 thrust/hex normal space
3 thrust/hex hyperspace
6 thrust/60 degree pivot
Jump gate required
6 thrust available
| | | |
| --- | --- | --- |
| Weapons: | Forward: | 1 Standard Particle beam; covers: f, fr, fl, ar, al |
| | Left Side: | 1 Standard Particle beam; covers: fl, al, f, a |
| | Right Side: | 1 Standard Particle beam; covers: fr, ar, f, a |
| | Aft: | 1 Standard Particle beam; covers: a, ar, al, fr, fl |
Raider Dragonship (GM ONLY)

Classification: Capital Ship

Value: 650 million credits

Crew: Unknown

Engines:
3 thrust/hex normal space
2 thrust/hex hyperspace
3 thrust/60 degree pivot
Jump Engine
8 thrust available
Weapons:

Forward:

Plasma Accelerator; covers: f, fr, fl
Heavy Plasma Cannon; covers: f, fr, fl

Port:

Medium Pulse Cannon; covers: f, fr, fl
Particle Cannon; covers: fl, al, f, a
Twin Array; covers: fl, al, f, a

Starboard:

Medium Pulse Cannon; covers: f, fr, fl
Particle Cannon; covers: fr, ar, f, a
Twin Array; covers: fr, ar, f, a

Aft:

Standard Particle Beam; covers: a, al, ar, fl
Standard Particle Beam; covers: a, ar, al, fr
Cargo: 60 Mc
Note: This ship can ONLY be used by GMs.
Raider Light Fighter (GM ONLY)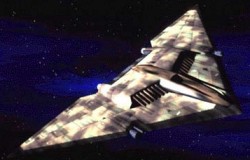 Classification: Light Fighter

Value: 20 million credits

Crew: 1

Engines:
5 hex normal space
7 hex hyperspace
Jump gate required
Weapons: Forward: 2 Bolter guns; covers: f, fr, fl

| | |
| --- | --- |
| Description: | The Raider Fighter is actually an old Narn design, like much of the Raider arsenal. It was phased out of Narn service a long time ago, but the Raiders were able to buy some of the remaining ones. This Fighter was designed to be capable of both space and atmospheric flight, but due to its design it is no match for space-only designs, like the Starfury, in space combat. The raider light fighter can ONLY be used by the GMs. |
Defense Satellite

Classification: Defensive Weapon
Value: 35 million credits
Crew: Automated
Engines: 1 hex any direction in normal space Can NOT travel in hyperspace
Weapons:

Forward:

Beam Weapon; covers: f, fr, fl, ar, al, a

Aft:

Missle Launcher; covers: fl, al, f, a
Missle Launcher; covers: fr, ar, f, a
| | |
| --- | --- |
| Description: | Defense Satellites are totally automated weapons that are used to defend a players' system. The Missle Launchers each hold 10 missles. Each launcher can fire one missle per turn. |
Note: Only 12 of these may be purchased for each system.

Babylon 5, names, pictures, etc. are trademarks of Time Warner Entertainment Co., LP. No copyright infringement intended or implied. All other material not belonging to Time Warner is the property of Alex Kroeze.